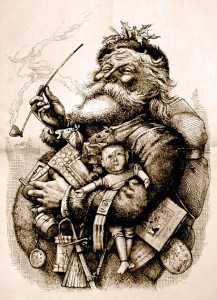 Last Tuesday, January 6, as I walked out of the hospital in New Mexico where my mother is staying due to a series of medical events — a planned hip replacement, followed by an unplanned stroke and then a very unplanned leg fracture — I saw two huge Christmas trees in the hospital lobby — the long-life kind, not living trees cut from the ground — shorn of their ornaments, which lay in bags on the floor.
At the wrong moment, or listening to the wrong music, the trees would have seemed forlorn, but to me they were expectant. For many reasons, good and not so good, this holiday season was very muted.
A year ago I remember remarking to an esteemed colleague in my doctoral program that I would stay on track with my doctoral work as long as I didn't have anything major like a job change or a family medical crisis, a statement intentionally hyperbolic.  By this past November, as my mother was on the cusp of her own medical journey, I had accepted a position, effective this morning, as Dean of the Library at Sonoma State University — an opportunity that came with very complex emotions about leaving Holy Names, but perhaps because of those feelings was absolutely the right opportunity at the right time.
I had been on a wonderful odyssey at Holy Names, one in which I felt that our initiatives and efforts, large and small, were deeply appreciated, and where I had the unique chance to build a library and a team from near-scratch while I learned the runic ways of higher education. I  remarked to a dear friend last summer that I didn't feel "done," and he paused thoughtfully and commented that no one is every really done. That wasn't the only epiphany, but it factored into many other conclusions I had about how much more I could do where I was at this point in time,  as well as what I wanted to accomplish in the last decade-and-plus of my career as a full-time library leader, and also our strong desire to remain in our beloved NorCal.
By December I was also immersed in my mother's medical crisis.  My sister and I have become entwined with one another in ways that are surprising and salutary, speaking, texting, and emailing daily, pacing our way around our mother's situation.  To add to it all, Sandy and I were also tangled in a massive head cold that for her developed into bronchitis and for me colored all the rituals and gestures of my departure from Holy Names, and our farewell to San Francisco as residents of five years, with a thin grey coating of exhaustion.
Thanksgiving was about apartment-hunting, wrapping things up at Holy Names, beating back the cold from hell, and packing.  Christmas was something other people were doing. Sandy and I gave away tickets for events (not wanting to be those people coughing nonstop in a theater), had a nice meal and cocktail here and there, slept a lot, and called it a season. My sister and I tag-teamed calls, emails, and travel to and from New Mexico. Sandy and I coughed and packed and coughed some more. My final commute from Holy Names was during a wind storm so powerful that the radio kept reporting traffic jams caused by trees falling on cars; I gripped the wheel of Misty, my Prius, and we soldiered on to Santa Rosa. By New Year's we were in our new home, coughing a little less. This past Sunday I set down my Ikea allen wrench to go visit my mother again, leaving Sandy amidst the boxes in a house without Internet or television.
At some point I decided to stop flogging myself for not having the mental bandwidth to work on the data analysis for my qualifying paper. I had a perfect timeline, and then life happened. It wasn't just chronological time that was scarce; it was the intellectual space to wrap my head around anything other than the next crisis-laden phone call or the next moving-related problem.
A lengthy delay in Internet access to our new home compounded issues; I spent a couple of weeks highly underconnected, which refreshed my empathy for students who lack reliable Internet and high-end equipment.  Out of desperation, because my home computer was a 17″ laptop with a dying screen (which was adequate when the laptop just sat there on my desk at home, less so when I contemplated dragging its fragile self to coffeeshops), the afternoon before my next trip to New Mexico I bought a laptop at CostCo which turned out to have a corrupt wireless driver that three CostCo support concierges helped me reinstall as I crossed the country. I could feel my ribcage loosen when I finally got fully online. I am still in awe of how expertly these support techs managed my case from airport lobbies and hotel rooms.
One morning, juggling too many things, I realized I was afraid I'd never get back on the doctoral homework horse again. As soon as I thought that, a business card with esteemed colleague's name on it fell out of a drawer, and a minute later I received a chipper email from him, thanking me for suggesting the qualitative analysis product he was productively using for coding interviews,  and asking how I was doing. This is the sort of colleague who also juggles too many things and then sits in a chair, scoots up to his desk, and stolidly soldiers through homework, reminding us all that It Can Be Done.
So: Santa is real, and he didn't skip our house this year, after all.
Two providers, four modems, and nearly three hours of telephone holds later, we have Internet and (because we are old-fashioned boomers) television. We have found stores and restaurants and a lovely walking/bicycling path just blocks from our home; our neighbors have been neighborly,  the area food-friendly and beautiful. The coughing is almost gone. The medical crisis proceeds as these do.  Sandy has found Meetup groups to do interesting walks around our new city.  Samson, bribed with copious quantities of bonita flakes and other cat treats, has adjusted. The mountain of boxes has dwindled, and we have found electric toothbrushes and tailor's chalk and many other things we were looking for.
In less than an hour I drive to my new job.  My next-to-last doctoral class will begin in March. The liturgical calendar will tick through the Feast of the Ascension, then Easter, and before I know it, I'll drag Piney III from the garage (we have a garage..!) and we'll bedeck him and hang stockings. And yesterday, early in the morning, I refocused on the data analysis for my qualifying paper,  making excellent progress; in future Sundays I'll resume worshipping at Church of the Tam–barring any  other crises, which in most cases, as I was reminded this Christmas season, are not mine to bar.
Posted on this day, other years: