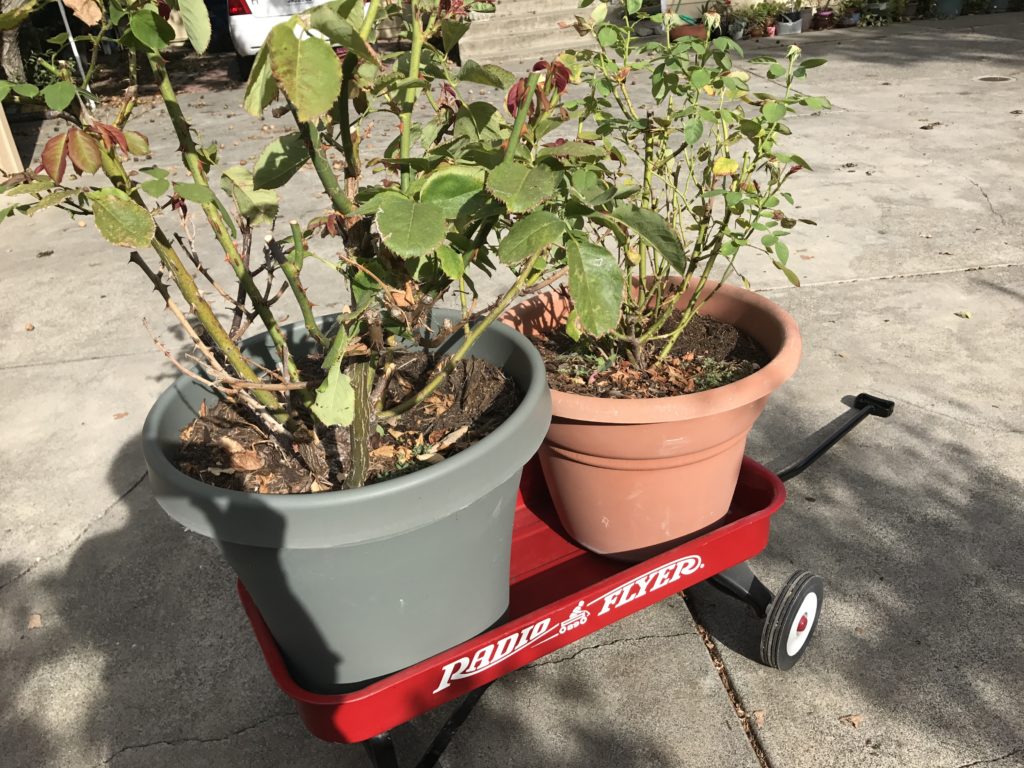 I have been reflecting on the future of a national association I belong to that has struggled with relevancy and with closing the distance between itself and its members, has distinct factions that differ on fundamental matters of values, faces declining national and chapter membership, needs to catch up on the technology curve, has sometimes problematic vendor relationships, struggles with member demographics and diversity, and has an uneven and sometimes conflicting national message and an awkward at best relationship with modern communications; but represents something important that I believe in and has a spark of vitality that is the secret to its future.
I am not, in fact, writing about the American Library Association, but the American Rose Society.
Most readers of Free Range Librarian associate me with libraries, but the rose connection may be less visible. I've grown roses in nine places I've lived in the last thirty-plus years, starting with roses planted in front of a rental house in Clovis, New Mexico, when I was stationed at Cannon Air Force Base in the 1980s, and continuing in pots or slices of garden plots as I moved around the world and later, the United States. Basically, if I had an outdoor spot to grow in, I grew roses, either in-ground or in pots, whether it was a slice of sunny backyard in Wayne, New Jersey, a tiny front garden area in Point Richmond, California, a sunny interior patio in our fake Eichler rental in Palo Alto, or a windy, none-too-sunny, and cold (but still much-appreciated) deck in our rental in San Francisco. When Sandy and I bought our sweet little house in Santa Rosa, part of the move involved rolling large garden pots on my Radio Flyer from our rental two blocks away.
Some of you know I'm an association geek, an avocation that has waxed as the years have progressed. I join associations because I'm from a generation where that's done, but another centripetal pull for staying and being involved is that associations, on their own, have always interested me. It's highly likely that a long time ago, probably when I was stationed in New Mexico and, later, Germany (the two duty stations where I had the ability to grow roses), that I was a member of the American Rose Society for two or three years. I infer this because I accumulated, then later recycled, their house magazine, American Rose, and I also have vague memories of receiving the annual publication, Handbook for Selecting Roses.
Early this year I joined the Redwood Empire Rose Society and a few weeks after that joined the American Rose Society. I joined the local society because I was eager to plant roses in our new home's garden and thought this would be a way to tap local expertise, and was won over by the society's programming, a range of monthly educational events that ranged from how to sharpen pruning shears to the habits and benefits of bees (a program where the audience puffed with pride, because roses--if grown without toxic chemical intervention–are highly beneficial bee-attracting pollen plants). I joined the national society less out of need than because I was curious about what ARS had to offer to people like me who are rose-lovers but average gardeners, and I was also inquisitive about how the society had (or had not) repositioned itself over the years.
My own practices around rose gardening have gradually changed, reflecting broader societal trends. Thirty years ago, I was an unwitting cog in the agricultural-industrial rose complex. I planted roses that appealed to my senses — attractive, repeat-blooming, and fragrant — and then managed their ability to grow and produce flowers not only through providing the two things all roses need to grow– sun and water — but also through liberal applications of synthetic food and toxic pest and disease products. The roses I purchased were bred for the most part with little regard for their ability to thrive without toxic intervention or for their suitability for specific regions.
Garden by garden, my behavior changed. I slowly adopted a "thrive or die" mantra. If a rose could not exist without toxic chemical interventions, then it did not belong in my garden, and I would, in rosarian parlance, "shovel-prune" it and replace it with a rose that could succeed with sun, water, good organic food and amendments, and an occasional but not over-fussy attention.
Eventually, as I moved toward organic gardening and became more familiar with sustainability in general, I absorbed the message that roses are plants, and the soil they grow in is like the food I put in my body: it influences their health. So I had the garden soil tested this winter while I was moving and replacing plants, digging holes that were close to two feet wide and deep. Based on the test results, I adjusted the soil accordingly: I used organic soil sulphur to lower the ph, dug in slow-release nitrogen in the form of feathermeal, and bathed the plants in a weak solution of organic liquid manganese. As I now do every spring, when it warmed up a bit I also resumed my monthly treatment of fish fertilizer, and this year, based on local rose advice, in a folksier vein dressed all the bushes with organic worm castings and alfalfa, both known to have good fertilizing capabilities. Alfalfa also has a lot of trace nutrients we know less about but appear to be important.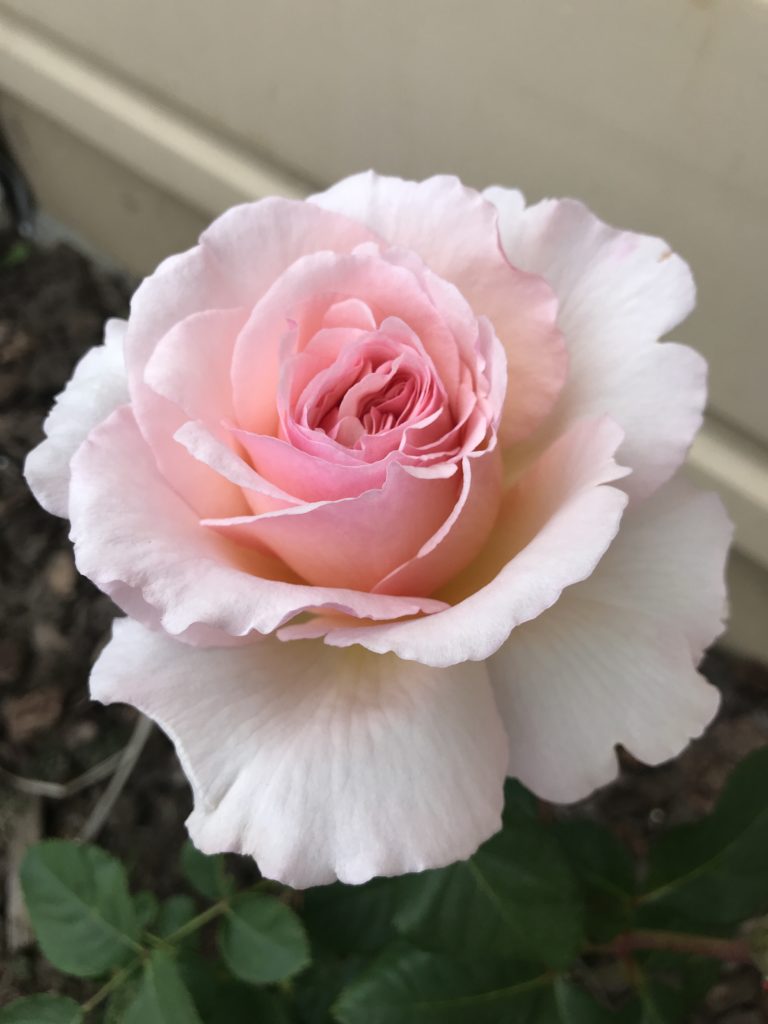 Guess what? Science is real! Nearly all of the rose bushes are measurably larger and more vigorous. Carding Mill, a David Austin rose, went from a medium shrub to a flowering giant. New roses I planted this spring, such as Grand Dame and Pinkerbelle, are growing much more vigorously than last year's new plantings. Some of this is due to the long, gloomy, wet winter, which gave roses opportunities to snake their long roots deeper into the good soil we have in Sonoma County; my friends are reporting great spring flushes this year. But roses planted even in the last six weeks, such as Princesse Charlene de Monaco and Sheila's Perfume, are taking off like a rocket, so it's not just the rain or the variety.
(You do not need to do all this to grow roses that will please you and your garden visitors, including bees and other beneficial insects. I enjoy the process. The key thing is that nearly all of my roses are highly rated for disease resistance and nearly all are reported to grow well in our region.)
Science–under attack in our national conversations–is also an area of conflict within the ARS. Presidents of the ARS have three-year terms, and the previous president, Pat Shanley, was an advocate of sustainable rose growing. She spoke and wrote about the value of organic gardening, and championed selecting varieties that do not require toxic intervention to thrive. The theme of the 2018 American Rose Annual was "Roses are for Everyone," and this Annual is a fascinating look at the sustainable-gardening wing of the ARS. Most of the articles emphasized the value of what Paul Zimmerman, a rose evangelist, calls "garden roses," flowers that everyday people like you and me can grow and enjoy. The message in this Annual is reinforced by recent books by longtime rose advocates and ARS members, such as Peter Kukielski's Roses without Chemicals and Zimmerman's Everyday Roses, books I highly recommend for library collections as well as personal use. (Roses without Chemicals is a book I use when I wake up at odd hours worried about things, because it is beautifully written and photographed and the roses are listed alphabetically.)
Now the ARS has a new president, Bob Martin, a longtime exhibitor, who in editorials has promoted chemical intervention for roses. "And yes Virginia we do spray our roses," he wrote in the March/April "First Word" editorial in American Rose, the house organ of the ARS. "As does nearly every serious rose exhibitor and those who want their rose bushes to sustainably produce the most beautiful blooms [emphasis mine]."
American Rose does not appear to publish letters to the editor. There is no section listed for letters that I can find in any recent issue, and the masthead only lists a street address for "member and subscription correspondence." Otherwise, I would write a short letter protesting the misuse of the term "sustainably," as well as the general direction of this editorial. I am a rose amateur, and make no bones about it. But I know that equating chemical spraying with sustainability is, hands-down, fake news. It's one thing to soak roses in toxins and call it a "health maintenance" program, as he does in this article. That's close to the line but not over it, since he's from the exhibitors' wing of ARS. But it's just plain junk science to claim that there is anything connected to sustainability about this approach.
I also can't imagine that this "toxins forever" message is attracting new ARS members or encouraging them to renew. It feels disconnected from what motivates average gardeners like me to grow roses today (to enjoy them in their gardens) and from how they want to grow them today (in a manner that honors the earth). Frankly, one of the happiest moments in my garden last year was not from personal enjoyment of the flowers or even the compliments of neighbors and passers-by, but when I saw bees doing barrel-rolls in the stamens of my roses, knowing that I was helping, not hurting, their survival.
The vast majority of people buying and planting roses these days have no idea there is a single-plant society dedicated to this plant, or even less that this society believes it understands their motivations for and interest in roses. My environmental scan of the literature and the quantities of roses provided by garden stores makes me suspect that many people buy roses based on a mix of personal recommendations, marketing guidance (what the vendors are promoting), and what they remember from their family gardens. (I would love to learn there had been market research in this area; vendors may have taken this up.) For average gardeners, their memories include roses such as Peace and Mr. Lincoln, which were bred in the middle of the last century, when the focus was not on disease resistance but on producing the hourglass hybrid tea shape that became the de facto standard for exhibiting.
We can get sentimental about roses from the late 20th century, but many of these varieties also helped perpetuate the idea that roses are hard to grow, despite the many varieties that grew just fine for thousands of years (or in the case of Excellenz von Schubert, which I planted this year, 110 years and counting). Market persuasion continues today; vendors tempt buyers through savvy marketing plans such as the Downton Abbey rose series from Weeks or David Austin's persistent messaging about "English" roses. Note — I own a lovely rose from the Downton Abbey line, Violet's Pride, that is quite the garden champ, and have three David Austin roses (Carding Mill, Munstead Wood, and Gentle Hermione). I'm just noting market behavior.
It is well-documented in rose literature that the rose that seems to have shaken the ARS to the core is the Knockout series, which introduced maintenance-free roses to a generation short on time and patience and increasingly invested in sustainable practices throughout their lives, including their gardens. Again, smart marketing was part of the formula, because there always have been sustainable roses, and ome companies, such as Kordes, moved to disease-resistant hybridizing decades ago. But the Knockout roses were promoted as an amazing breakthrough. (It may help to know that new varieties of roses have 20-year patents during which propagation is only legally through license. I don't begrudge hybridizers their income, given how much work–sometimes thousands of seedlings–goes into producing a single good rose, but this does factor into how and why roses are marketed.)
You don't need a certificate as a master gardener or membership in a rose society to grow Knockout roses or newer competitors such as the Oso Easy line. You don't really need to know anything about roses at all, other than roses grow in sun, not shade, and appreciate water. You also don't need to spray Knockout roses with powerful fungicides to prevent blackspot and mildew.
Regardless of the public's reaction to easy-to-grow roses, the rose world's reception of the Knockout rose by the rose world was mixed, to use an understatement. Though the Knockout rose was the 2004 ARS members' choice rose, rumblings abounded, and Knockout was even blamed in popular literature as a vector for the rose rosette virus (RRV), though this was later debunked. Fifty years ago RRV was observed in a number of rose varieties, long before the Knockout rose appeared. (This mite-spread virus was promulgated in the United States to control a pest rose, rosa multiflora, that was itself introduced without realizing what havoc it would wreak.) Again, I'm no scientist, but I would think the appearance of RRV in "domesticated" roses was inevitable, regardless of which rose variety was first identified by name as carrying this disease.
Rose hybridizing is now catching up with the public's interests and the wider need for roses with strong disease resistance. Rose companies prominently tout disease resistance and many new varieties can be grown toxin-free. I selected Princesse Charlene de Monaco in part because it medaled as best hybrid tea in the 2018 Biltmore International Rose Trials, for which roses must perform well in terms of vigor and disease resistance as well as aesthetic qualities. There were companies such as Kordes who walked this walk before it was fashionable, but in typical change-adoption fashion, other vendors are adapting their own practices, because the market is demanding it.
But association leadership is driven by different goals than that for for-profit companies. A colleague of mine, after sharing his support for my successful run for ALA Executive Board, commented that it takes expertise to run a $50 million organization–skills not everyone has in equal abundance. My further reflection is that the kind of leadership we need at any one time is also unique to that moment, though–with absolutely no aspersions on our current crop of excellent leaders in ALA–historically, we have not always selected leadership for either general expertise or current needs, an issue hardly unique to ARS or ALA.
So I watch the ARS seesaw. As just one more example, recently I read an article within the same ARS email newsletter touting the value of lacewings for insect management, followed by an article about the value of chemical interventions that I know are toxic to beneficial insects. These aren't just contradictory ideas; they are contradictory values, contradictory messages, and contradictory branding. And these conflicting messages are evident even before we look at the relationship between the national association and local societies (organized differently than ALA chapters but with the similar intent).
If I could deduce the current priorities for ARS from its magazine, website, and email newsletters, it would be the renovation of the ARS garden in Shreveport. The plan to update the 84-year-old "national rosarium" makes sense, if you like rose gardens, but it sounds more like a call to the passionate few than the general public. It's hard to infer other priorities when website sections such as "Cyber Rosarian" invite members to ask questions that then go unanswered for over a year. The section called "Endorsed Products" is its own conflicted mix of chemical interventions, artificial fertilizers, and organic rose food. The website section on rose preservation–a goal embedded in the ARS mission statement, "The American Rose Society exists to promote the culture, preservation and appreciation of the Rose"–is a blank page with a note it is under construction. A section with videos by Paul Zimmerman is useful, but the rose recommendations by district are incomplete, and also raise the issue that ARS districts are organized geopolitically, not by climate. A rose suited for the long dry summers of Sonoma County may not do as well in Maui.
The ARS "Modern Roses" database has value, listing over 37,000 cultivars. But if I want insight into a specific rose, I use Helpmefind.com, which despite its generic name and rustic interface is the de facto go-to site for rose information, questions, and discussion, often in the context of region, climate, and approaches to sustainability. I pay a small annual fee for premium access, in part to get HMF's extra goodies (advanced search, and access to lineage information) but primarily because this site gives me value and I want to support their work.
Though I couldn't find data on the ARS website for membership numbers in national, district, or local societies, I intuit membership overall is declining. It is in our local society, where despite great programming in a region where many people grow roses, I am one of the younger members. Again, there are larger forces at work with association membership, but pointing to those forces and then doing business as usual is a recipe for slow death. Interestingly, the local rose society is aware of its challenges and interested in what it might mean to reposition itself for survival. Most recently, we founded a Facebook group that anyone could join (look for Redwood Empire Rose Society). But the society doesn't have very much time, and a Facebook group isn't the magic bullet.
To loop back to ALA for a moment: I can remember when the response to concerns about membership decline were that the library field was contracting as a whole and association membership was also less popular in general. But these days, ALA is invested in moving past these facts and asking, what then? ALA is willing to change to survive. And I believe that is why ALA will be around 100 years from now, assuming we continue to support human life on this continent.
As I ponder all this, deep in my association geekiness, I'm left with these questions: if the ARS can't save itself, who will be there for the roses? Will the ad hoc, de facto green-garden rosarians form a new society, will they simply soldier on as a loose federation, or will the vendors determine the future of roses? Have rose societies begun talking about strategic redirection, consolidation, and other new approaches? Does the ARS see itself as a change leader? Where does the ARS see itself in 25 years? Am I just a naive member in the field, totally missing the point, or is there something to what I'm observing, outside the palace walls?
I've been writing this off and on for months. It's Memorial Day and it's now light enough outside to wander into our front yard, pruners and deadheading bucket in hand, iPhone in my pocket so I can share what bloomed while I slept. Over time I changed how I grow roses, but not why I grow roses. Somewhere in there is an insight, but it's time to garden.