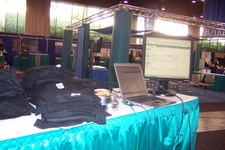 Arrived in Pasadena to learn that the MPOW SWAG shipped to the Convention Center had been lost. O grief… O deep yawning gap in my life. (Should that second "o" be lower case? Never mind…)
I kept appealing to higher courts, and someone Very Important from the convention center claims he is going to help, and I should just sit here and wait. Meanwhile, on a whim I agreed to have the last handful of our LII t-shirts with the old logo sent to Pasadena, figuring it couldn't hurt. At least I will have these to give away… I think there are a couple hundred (many in size small, which even I don't wear).
I will just have to be brave, and remember that a woman without SWAG is like a fish without an abacus.
Posted on this day, other years: